I recently started playing RC helicopters... nothing fancy... just beginner models...

As anyone in RC knows, LiPo battery is very sensitive to charging and discharging activities... Charging needs to be accurately monitored and discharging should not be all the way to zero capacity... There are various voltage versus capacity chart on the 'net and plenty of ready of-the-shelf LiPo battery monitor on the market... Me being me again, I wanted a simple LiPo voltage monitor for my RC usage (and friends using LiPo to replace obsolete battery on their amateur radio handies)...

The following circuit was found on the 'net... It can be wired point to point or a small PCB could be made for it... I'm yet to test it out (waiting for parts) but if it proves practical, I'll probably go with SMD route to make it as small as possible... I'll replace R1 and R2 with trimmer so that the unit can be made universal to monitor any batteries... btw, the estimated parts cost is around RM1.00 :) ... so stay tune...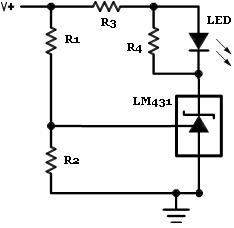 [Update]... Parts arrived already...
Here the photo of the unit I made over the weekend to show the size next to a 7.4V 850mAH LiPo battery... Trigger voltage is adjustable using the trimmer... As set, the unit takes about 10mA when LED is on (voltage is at or above the set threshold)...